Discover more from Trade-offs and Triumphs
A newsletter of resources and thoughts about how to balance trade-offs in life to find and celebrate the small triumph; every decision point requires thinking through trade-offs and not just immediately aiming for what seems to be the "solution."
Trade-offs and Triumphs 8
Issue 8: Why Subscribe to Trade-offs & Triumphs - A Video Experiment, Questions to Start Off Your Week, Who We Are Now 2020, and Japanese Prints
Hello, friends! Thank you for subscribing, and welcome to my new subscribers!
I appreciate your time and wisdom.
Welcome to issue 8!
It has been difficult to write and to actually like what has been typed on the screen or written down on paper. It does not help that we are entering the last quarter of the year, so work has been extremely busy as we race to the finish and try to accomplish every major thing that we had been putting off.
But, as Anne of Green Gables stated, "Tomorrow is a new day with no mistakes in it... yet."
Tomorrow is also the start of autumn. Who is ready for cooler weather and rich autumn leaf colors?
Coffee anyone? - check out Flow State coffee, which is supposed to improve creativity and productivity. I need all the help I can get.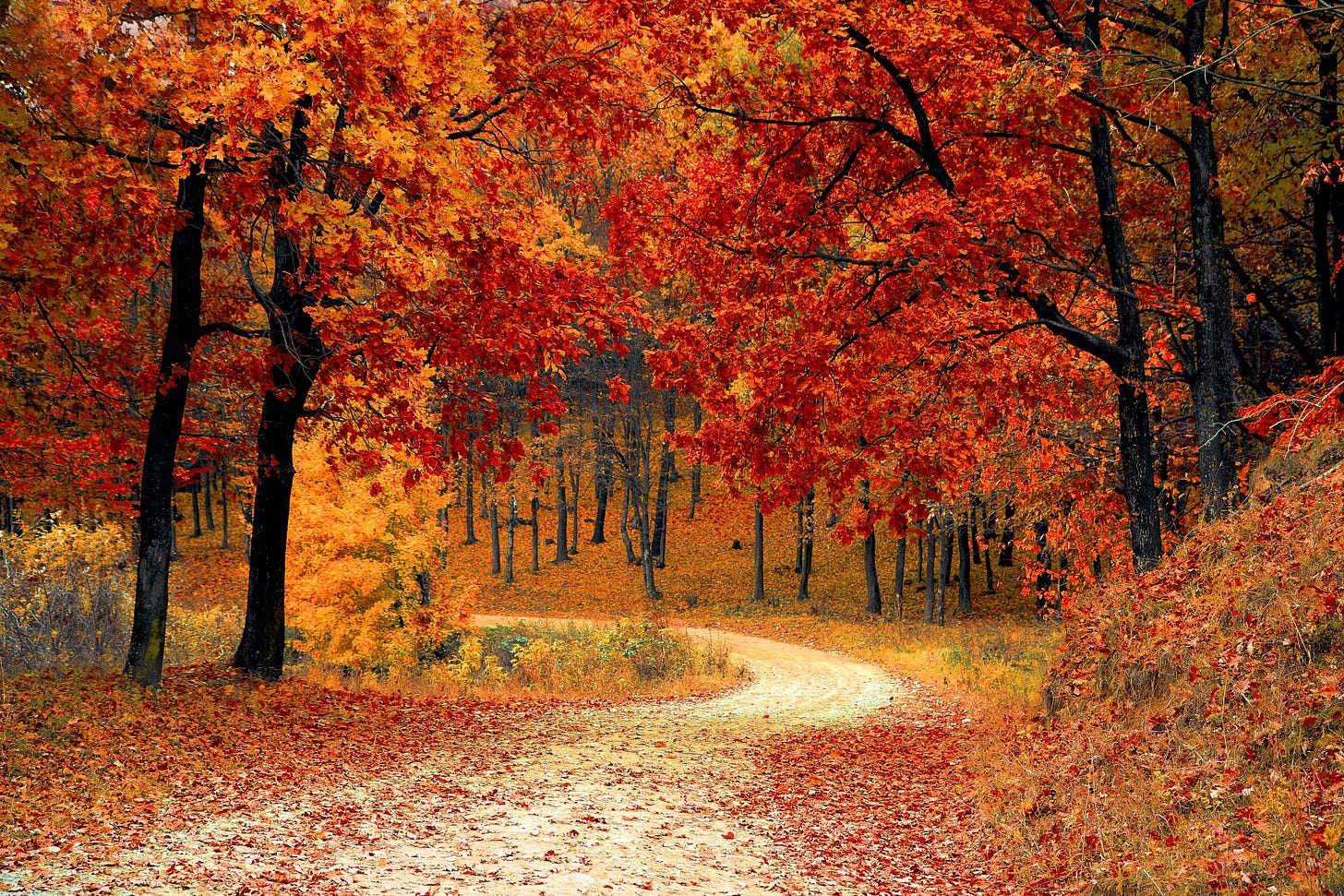 ---
Why Subscribe to Trade-offs and Triumphs - A Video Experiment
Last week, I participated in a video crossfit lead by Cam Houser. During the session, we were supposed to record ourselves, then screen it to our partner, and receive critique. My critique partner was the ever imaginative @reddy2go. He suggested that I use this video to thank subscribers, because it explains the theme of Trade-offs and Triumphs.
Video seems to magnify all the flaws that my mother constantly points out:
Teeth that 13 years of braces could not fix

I smile too widely

My face is too expressive

I often pick the wrong outfit
Nonetheless, I executed this video precisely because I was uncomfortable. As Cam Houser pointed out during the session, I will only get better if I keep on recording more of these, notwithstanding my lack of Christie Brinkley-like qualities on camera.
So here it is! Please let me know what you think - all feedback welcome.
---
Questions to Start Off Your Work (especially when you are feeling unproductive)
What is your plan for the week?

What's a good way to validate an idea?

What book are you reading right now?

Name one positive thing that happened last week.
Check back in with me next week about this.
---
Who We Are Now 2020 - Stories about Ordinary Americans
My friend, Michelle Fishburne, is a storyteller and visionary, who seeks to find the best in people. We met each other via Twitter originally when she had been working on amplifying the need for more entrepreneurship education among people with criminal records. For her and for so many of us, 2020 has been a year like no other: COVID-19, lockdowns, unemployment, bankruptcies, online schooling, BLM, protests, Election 2020.
Yet, as Michelle observes, we are getting through it. She is a leader and go-getter, so she decided to start Who We Are Now 2020 and capture the stories of ordinary Americans who are putting one foot in front of another during this extraordinary time. Ordinary Americans who are living, striving to pull the pieces together and keep on trucking, even when the odds seem against them.
The experience has been unique for each person. Restaurant owners, musicians, medical workers, homeless people, yoga instructors, hairstylists, teachers. The list goes on infinitely.  For each, the trade-offs and the stakes are different - for some it only requires minor sacrifices, but for others, it means the difference between life and death.
So, Michelle is wandering across the country this fall to collect these stories and share them so we all can feel a little less alone in this sea of uncertainty and be inspired to be the leaders who will actually implement change - change where we learn to take care of one another, and appreciate the larger community that we live in togther.
Digital handshakes. Photos. Re-discovering our humanity, and what we share in common. Dreams, hopes, desire, disappointments, and picking ourselves up again. Seeking redemption.
Some of these stories will show people who are thriving and leading their communities with innovative ideas. Other stories will be heartbreaking, and show people who are struggling each and every day with no end in sight.
Right now, everyone is making trade-offs - but let's also take a moment to celebrate everyone's small triumphs, and enable those who are having to make major trade-offs still savor a triumph or two through the struggle.
This is why you should check Who We Are Now 2020 at:
And you can always reach out to Michelle Fishburne via LinkedIn.
Finally, check out this Bloomberg Opinion article about America, its coasts, and flyover country, and the invisible people who all keep us running but struggle everyday.
---
Japanese Prints - Evoking the Imagination and Questions
H/t Aesthetic Sharer ZHR - Kobayashi Kiyochika (小林 清親, 10 September 1847 – 28 November 1915) was a Japanese ukiyo-e artist, best known for his ukiyo-e colour woodblock prints and newspaper illustrations.
As you allow your eyes to gaze at these prints, what are your immediate questions?
My immediate questions are:
What are these individuals thinking about?

What conversations are occurring?

How is silence even a conversation?

Can you be lonely even in a crowd?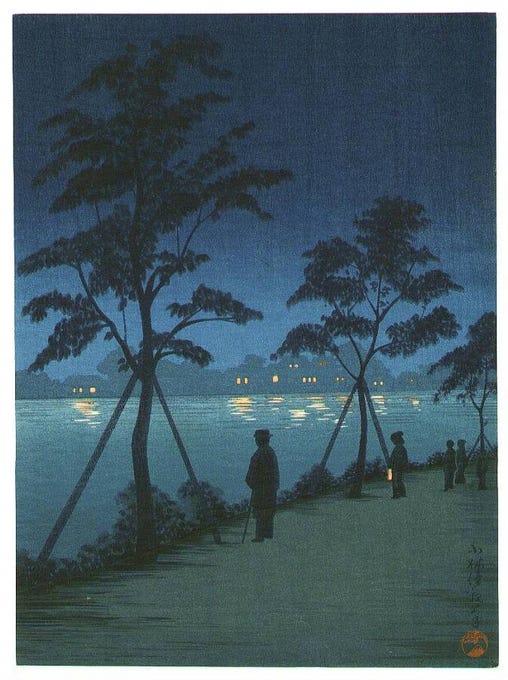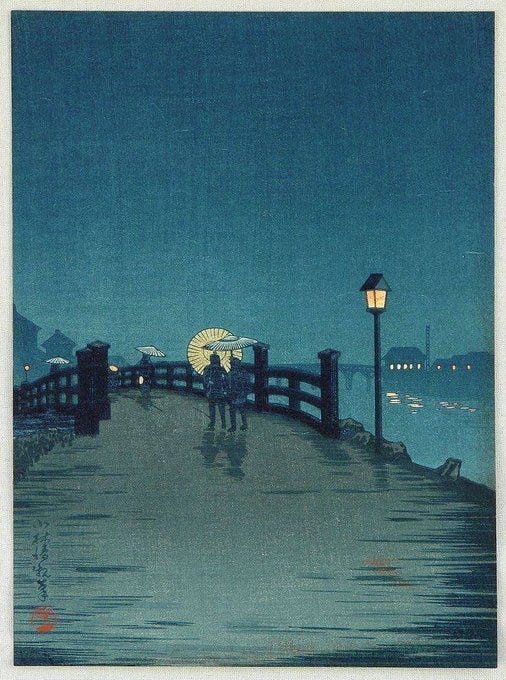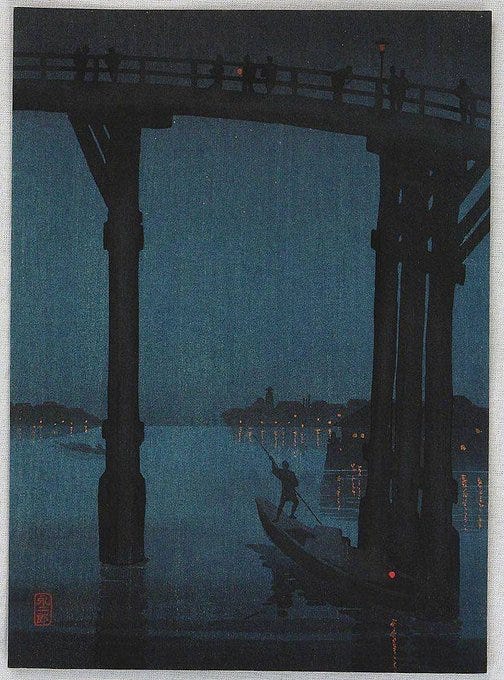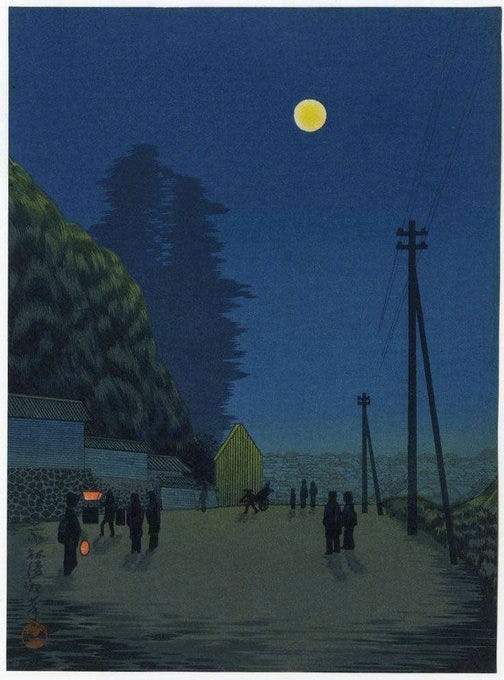 ---
Have any questions or comments? Let's chat!
Want to exchange some thoughts over Twitter? You can find me @jennykim
Check out my website for more: puttingittogether.blog
See you next week!
And remember to find that trade-off that will lead to that triumph this week, no matter how small, and celebrate it.